Our One Mission, Two Parishes Theme or Focus

for 2023 is:
Being the Good News
by Promoting God's Hospitality!




and so it gives me great pleasure to welcome YOU
to our Parish Website ...
Fr Gerard
Parish Priest
Saint Timothy's Final resting place … Termoli Cathedral is a Roman Catholic cathedral in Termoli, in the province of Campobasso, central Italy. The dedication is to the Purification of the Virgin Mary, but is commonly ascribed to Saints Bassus and Timothy, patrons of the city. It is the seat of the Bishop of Termoli-Larino.
Born at Lystra, Lycaenia, Timothy was the son of a Greek father and Eunice, a converted Jewess. He joined St. Paul when Paul preached at Lystra replacing Barnabas, and became Paul's close friend and confidant. Paul allowed him to be circumcised to placate the Jews, since he was the son of a Jewess, and he then accompanied Paul on his second missionary journey. When Paul was forced to flee Berea because of the enmity of the Jews there, Timothy remained, but after a time was sent to Thessalonica to report on the condition of the Christians there and to encourage them under persecution, a report that led to Paul's first letter to the Thessalonians when he joined Timothy at Corinth. Timothy and Erastus were sent to Macedonia in 58, went to Corinth to remind the Corinthians of Paul's teaching, and then accompanied Paul into Macedonia and Achaia. Timothy was probably with Paul when the Apostle was imprisoned at Caesarea and then Rome, and was himself imprisoned but then freed. According to tradition, he went to Ephesus, became its first bishop, and was stoned to death there when he opposed the pagan festival of Katagogian in honor of Diana. Paul wrote two letters to Timothy, one written about 65 from Macedonia and the second from Rome while he was in prison awaiting execution. His feast day is January 26.
The Missionary Nature of the Church: "The Person who has trust and participates in the faith of the Church wants to believe with the Church. This seems like our life-long pilgrimage: to arrive with our entire life at the communion of faith. We can offer this to everyone, so that little by little one can identify and especially take this step over and over again to trust in the faith of the Church, to insert themselves in this pilgrimage of faith, so as to receive the light of faith ... The essence of Christianity is not an idea but a Person. Great theologians have tried to describe the essential ideas that make up Christianity. But in the end, the Christianity they constructed was not convincing, because Christianity is in first place an Event, a Person. And thus in the Person we discover the richness of what is contained ... How can one's personal authenticity be discovered if in reality, in the depths of our hearts, there is the expectation of Jesus, and the genuine authenticity of each person is found exactly in communion with Christ and not without Christ? If we have found the Lord and if he is the light and joy of our lives, are we sure that for someone else who has not found Chirst they are not lacking something essential and that it is our duty to offer them this essential reality? ... If we are convinced and we have experienced the fact that without Christ life is incomplete, is missing a reality, the fundamental reality, we must also be convinced that we do harm to no one if we show them Christ and we offer them in this way too the possibility to discover, the joy of having discovered life.
(Benedict XVI 'Benedictus').
CELEBRATING SUNDAY: 'Christians are Sunday People. What does that mean? Before we ask ourselves how we "observe Sunday," we have to consider what we Christians actually celebrate on Sunday. The real and first reason for celebrating Sunday lies in the fact that on this day Christ rose from the dead. In doing so, he inaugurated a new age. For the first time someone returns from the dead and will not die again. For the first time someone has broken the bonds of time that hold us all in captivity. But Jesus did not pass quickly into heaven. He did not simply shed time as one might shed a worn-out garment; on the contrary, he remains with us. He has returned and will never leave us again. The feast of Sunday is, therefore, above all a profession of faith in the Resurrection. It is a profession of faith that life is good. Very early in the history of the Church Christians asked themselves: "Why did the Lord choose this day? What meaning did he intend to convey thereby?" According to Jewish reckoning, Sunday was the first day of the week. It was therefore the day on which God created the world. It was the day on which God ended his rest and spoke: "Let there be light" (Gen. 1:3). Sunday is the first day of the week, the day of creation. That means, then, that Sunday is also the day on which we give thanks for creation … Creation has been given us by God as our living space, as the scene of our labour and our leisure, in which we find both the necessities and the superfluities of life, the beauty of images and sounds, which we need precisely as much as we need food and clothing.' (Benedict XVI 'Benedictus')
Journeying together in daily life ...
17 November 2022 Joint Parish Pastoral Council Focus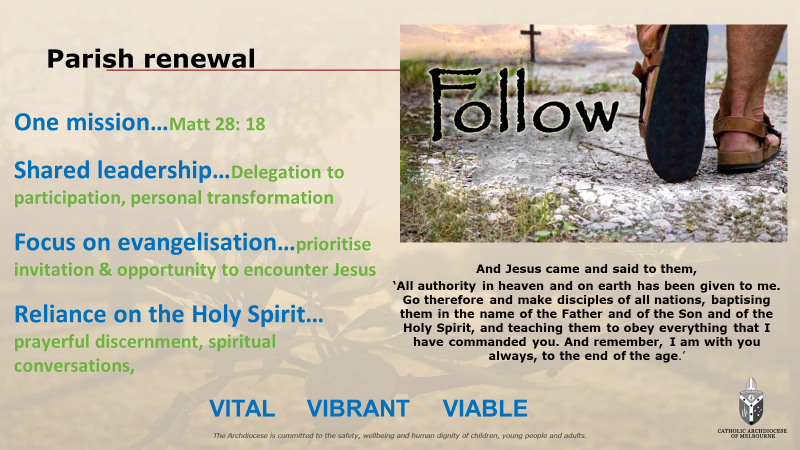 11 November 2022
6 November 2022
ANOTHER PARISHIONER HAS KINDLY alerted me to the fact that Saint Timothy's First Mass may have been on 24-12-1962 however Saint Timothy's was still part of St John's Mitcham at that stage and was declared a Parish in January 1968. So the Parish's 60th Anniversary is not until January 2028. Do Parishioners want to endorse the current proposal, that this year we have the 6pm Christmas Eve Mass only (no 10 pm Mass on Christmas Eve) and after the 6pm Mass we have a Parish BBQ and/or finger food. It would be a good opportunity for all of us to get together, have a chat and get to know each other more during the party, while celebrating together this 'low' anniversary in the life of the Parish. What do other Parishioners think? Please reply via email to This email address is being protected from spambots. You need JavaScript enabled to view it.
30 October 2022
60th ANNNIVERSARY OF SAINT TIMOTHY'S PARISH: A Parishioner has alerted me to the fact that St Timothy's First Mass was on 24-12-1962. The Parishioner is proposing that this year we have the 6pm Christmas Eve Mass only (no 10pm Mass on Christmas Eve) and after the 6pm Mass we have a Parish BBQ and/or finger food. It would be a good opportunity for all of us to get together, have a chat and get to know each other more during the party, while celebrating together this significant milestone in the life of the Parish. What do other Parishioners think? (Please advise via email to This email address is being protected from spambots. You need JavaScript enabled to view it.)
16 October 2022
12 August 2022
TWO PARISHES ONE MISSION ~ ST TIMOTHY'S & ST LUKE'S INAUGURAL PARISH GATHERING
Our Parishes ~ Unique Past, Connecting Present and Shared Future ...
SUNDAY 28th August 2022. 2 - 4pm St Luke's Parish Hall:
To bring Parishioners of the two communities together for the first official gathering and conversation about their new reality and shared future.

To share personal reflections on the past and present appreciation of parish life.

To Identify some proposed

ste

pping-stones forward as to where both parishes discern they want to go All Parishioners from both Parishes are welcome.
2022 PARISH RENEWAL PROGRAM FOR THE PARISHES OF ST TIMOTHY'S FOREST HILL AND
ST LUKE THE EVANGELIST BLACKBURN SOUTH

Our Program will commence with our 'Launch Weekend' at St Timothy's Parish on Saturday 20 and Sunday 21 August, and at St Luke's Parish on Saturday 27 and Sunday 28 August. It will be coordinated by Frank Schobben from Parish First P/L who will be assisted by Sonya O'Farrell (Parish Secretary) and representatives from our two Parish communities. St Timothy's Renewal Program Team members are: Rachel Grealy, Hubert Lobo, Alfred Lee, Anico Yee, Thuan Tran, and Kelvin Nguyen. St Luke's Renewal Program Team members are: Margaret Gearon, Melina Barcellona, Steven Kilroe-Smith, Dale Dixon, Steven Brennan, David Prabha, and Greg McKeown. We encourage you to be actively involved – read the materials, listen to the speakers and follow the Program with weekly updates through SMS and on our Parish websites.
PARISHIONER FORUM: Save the date! We will hold a special one-hour Parishioner Forum – on Thursday 1 September at 7:30 pm in St Luke's Church (46 Orchard Grove, Blackburn South). All Parishioners from our two communities are invited. It's the main meeting of the Program and will be an ideal opportunity for you to contribute to the discussion on the future priorities and plans for our Parishes.
20 July 2022
pdf #60 UPDATE: GENERAL LITURGICAL GUIDELINES COVID-19 Implications for the Catholic Archdiocese of Melbourne Information Updated: 20 July 2022, 12.00pm (134 KB)
15 July 2022
Please find pdf attached a letter from the Archbishop (130 KB) following his return from the Fifth Plenary Council.
CATHOLIC ARCHDIOCESE OF MELBOURNE ~ Our local Church in Melbourne has brought together this Report in response to Pope Francis' invitation for the universal Church to reflect upon: 'For a Synodal Church: Communion, Participation and Mission'; the theme of the 16th Ordinary General Assembly of the Synod of Bishops which will take place on October 2023. The Report will now take its part in a combined national report, which will be sent to the General Secretariat for the Synod of Bishops to be considered alongside contributions from other parts of the Church around the world. Please be encouraged to read the voices from our people, and the introductory message from the Archbishop.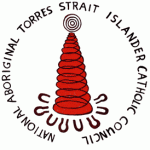 The Community of St Timothy acknowledges the Wurundjeri People as the traditional owners of this land.